TOURIST INFORMATION AGENCY
Welcome to our tourism information website and take a look at most interesting guest houses in Poland. Our website gives you the opportunity to find interesting offers for leisure time and recreation. Our offer is addressed to tourism offices as well as for individual tourists. Thanks to us you can easily find guest houses and accommodation in Bydgoszcz.
SILVER
POLSKA - TORUŃ
87-100 Toruń
ul. Słowicza 49
tel./fax 48 56 654 61 31
www.gosciniecsilver.pl
kontakt@gosciniecsilver.pl
Gościniec SILVER located in a quiet area near the forest at Torun housing estate Heathers first The building is monitored, ensuring complete safety of our guests. Before the building is closed car park.
VILLA AGAT
POLSKA - BYDGOSZCZ
Bydgoszcz
ul. Borowiacka 21 (Czyżkówko)
fax: 48 52 581 06 56
www.agat.bydgoszcz.pl/villa
recepcja@agat.bydgoszcz.pl
VILLA AGAT offering rooms for rent, located at 21 in the district Borowiackiej Czyżkówko - accessible by bus lines of the 51st We invite you also to the hotels located in Agat Bydgoszcz ul. Zygmunt August 7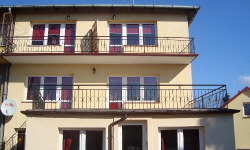 POD ROZA
POLSKA - POMORSKIE
Ciechocinek 87-720
ul. Traugutta 148
tel.: 48 512 486 706
www.pensjonat-pod-roza.com
pensjonat-pod-roza@wp.pl

POD ROZA Oferujemy komfortowe warunki pobytu w pokojach 1 i 2 osobowych z łazienkami (suszarki, ręczniki, środki higieny osobistej ). Każdy pokój posiada swój taras. Pokoje wyposażone w telewizory na terenie pensjonatu dostępny Internet WI-FI. Proponujemy Państwu masaże wykonywane przez masażystę w pokojach na życzenie Klienta.
NIVA
POLSKA - KUJAWSKO - POMORSKIE
87 - 720 Ciechocinek
ul. Władysława Jagiełły 2
tel. kom. 513 155 497
www.niva.ciechocinek.pl
niva.ciechocinek@neostrada.pl
NIVA Recreation House offers healing and relaxation such as massage, dry, aquavibron, brine baths in a tub with whirlpool, steam bath, sauna, jacuzzi.
NAZWA OBIEKTU
POLSKA - REGION
00-000 Miejscowość
ul. Nazwa nr
tel.: 48 00 000 00 00
www.polturizm.ru
polturizm@polturizm.ru
PENSJONATY informacja